HAPPY VALENTINE'S DAY!!!! 😀 I hope y'all have a wonderful day full of love!! 🙂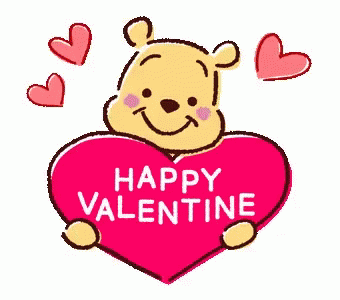 Today's post, as I'm sure you can guess, is going to be about special people in my life. I was specifically saving this post for today. 🙂 This one isn't just a random love posts. Anyway, let's get to it shall we? I hope y'all enjoy!!
So, I'll be honest I don't really have a lot of friends haha or any really. People just don't wanna be my friend for some reason..maybe it's because I don't like doing dumb things at this age and most people do? I don't know. However, I would like to say that I consider y'all my friends! Y'all, my followers, are some really cool people with really great blogs. I may not be super close to anyone, but I still appreciate each and every one of you.
I know a lot of people don't like Valentine's Day but if you really think about love for yourself and others it's not a bad holiday. You don't have to go spend your money on a bunch of flowers or candy all you have to do is make sure you let those around you know how much you love them. Make sure you tell yourself that too, because this holiday doesn't have to be something you dread if you just make it yours.
I really do appreciate y'all and I'm so glad I started this blog because y'all are some amazing people and I love being able to comment with y'all. This blog has helped meet some pretty awesome people. 🙂
I really love my family. They've helped me so much this past year it's absolutely crazy how much things have changed and grown. I appreciate all that they've done to help me through some of the bad times and to be happy with me during the good times.
I am so appreciative and thankful that my grandparents are letting me stay with them while I work. I'm thankful my parents let me borrow one of their cars to use until I can afford a car of my own. I'm thankful that they've helped me through some really hard times and knew just what to say to make me feel better. I'm thankful that my sister and I get the opportunity to go on this trip together and spend some quality time together. I love seeing my family and being with them when I can.
This past year has been a really rough one for me and my parents learned a lot about me and I learned that I could open up to them more. I don't want to go into detail because 1.) this is a post about love and 2.) that's a story for another day way in the future haha. 😉 Anyway, I really appreciate that my parents helped pay for my flight attendant stuff and the way they encouraged me and let me know how proud they were. They helped me when I had my first heartbreak. They helped me when I've made mistakes and let me know that everyone goes through it. They're just some really amazing people.
I love that I can hang out with my siblings and all the hilarious things we joke about. They truly are my best friends because we are all so close. It's fun to just go shopping or out to eat and catch up on everything that's happened. They can be like my own little TV show full of gossip and drama that I like to hear but not be apart of haha. They're just some really great siblings…even though they can get on my nerves sometimes haha.
I appreciate living so close to both sets of my grandparents. I love going to see my other grandparents. We usually go out to eat or if there's something good we'll go see a movie. I love hearing their stories about how things were when they were kids because I just find it so fascinating how much things have changed. I love just being able to talk to them about life and how things have been going. They're just great to be around and I'm so thankful they're in my life. Oh, and I can never get enough Grandpa jokes haha. Ex: I was telling them about how a crew and I went to get food and everyone ordered alcohol and when it came to me I just said "water" and my other flight attendant looked at me and said "wait, how old are you?" and my grandpa said "how old do you have to be to order water?" haha. He comes up with the best things just on the spot like that!! I don't know how he does it but I wish I said that! It would have been iconic!! XD
I may not have too many in-real-life friends but I have a good family that I'm pretty close too. They're just really amazing and I love them so much. I don't know where I would be without their love and support.
I also, of course, have to mention my current bf. So, this past year I went through a rough breakup but it definitely opened my eyes to the reality that it was a very controlling and toxic type of relationship. I wasn't happy in it, but I told myself lies to be okay with it. After the breakup I had no one so I was on Tinder a lot just trying to find someone to talk to. Yes I know Tinder gets a bad rap because it's mostly for hookups, but I was just looking for someone to talk to. I won't go into a lot of detail but I did come across a pretty amazing guy. We've been together since October and it hasn't been easy as I still deal with some of old thoughts that my past relationship ingrained in me. However, he's stuck with me because I assure y'all I'm not an easy person to be with haha. I don't want a fool I want a man and some people aren't read to commit to that. He's been doing a pretty good job though. He's such a sweetheart and he can say some really sweet things that make me feel so lucky. He's also such a dork haha.
It hasn't been easy because love never is but it's been good. I have a good family even though they can drive me crazy, I have a good boyfriend even though he can drive me crazy, I have some good pets in my life even though they can drive me crazy! Love can be crazy but it's still good. ❤
I hope y'all have a really good Valentine's Day! I could ramble on forever but I have stuff to do today haha. As I'm sure y'all do too. Have a wonderful day!! Love y'all!! xoxo